You Can Become The Next Voice of Cricket…
October 8, 2023

Posted by:

admin

Category:

Careers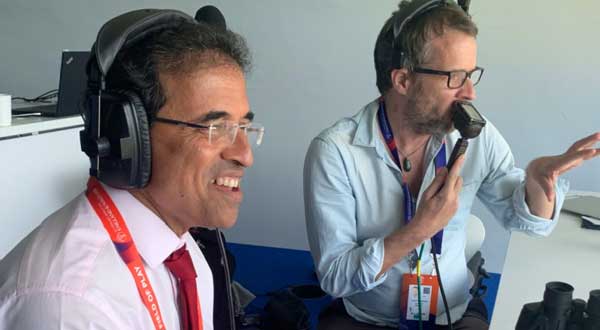 "Dhoni finishes off in style. A magnificent strike into the crowd! India lift the World Cup after 28 years!" screamed Ravi Shastri on air after Mahendra Singh Dhoni smashed the winning runs in the final of the ICC Cricket World Cup in 2011 against Sri Lanka at the Wankhede Stadium in Mumbai.
For those sitting at home, India's 2011 ICC Cricket World Cup victory became even more eargasmic thanks to Shastri's booming, immortal voice that announced the historic moment to billions of Indian fans across the country.
If Shastri's hype makes you get goosebumps, consider a cricket romantic such as Harsha Bhogle, the Voice of Cricket as he's popularly known – his unique way of playing with words coupled with quick wit – and you have the perfect commentator right there.
But how can average fans become cricket commentators? Isn't it only former players who enjoy that role? Take Harsha for example, he's an outsider. While other commentators read the game because they've played it, the IIM Ahmedabad alumnus is different because apart from a very deep understanding of the game, he also has the soul of a cricket romantic.
Here are some simple steps to follow if you want to become a commentator:
You need to have a deep understanding of the sport:
Non-stop jabbering isn't enough. Fans are now more technical and it is important that you are in sync with all the latest advancements in the sport, be it on or off the field.
You will have to be familiar with all the names of cricketers and keep a track of the important cricket teams. You should have complete information and knowledge about important matches,yes, past and present – such as dates, debacles and important performance of the players – right at your fingertips.
Always remain upbeat and keep your chat engaging
Be original and develop your own style:
Please develop your own style and NEVER COPY another commentator. This, in fact, was told to me by Harsha Bhogle himself when I met him for a cricket symposium. "Always try and be yourself. Be original," he said. In that way you will be recognized by the audience.
What are the basic requirements to become a cricket commentator?
The specialisations available for a sports commentator include a bachelor's degree in journalism, mass media, broadcasting or English. However, one of the most useful courses for an aspiring cricket or a sports commentator is a course in television news and production.
The MOST IMPORTANT QUESTION: How much does a cricket commentator earn?
A cricket commentator earns nearly INR 2 to 3 lakh at an early stage of his/her career while the amount can zoom upto INR 4 to 5 lakh during a mid-level career. A senior cricket commentator can stand to earn around INR 8 to 10 lakh for the service he/she provides per event.
So, you see, there is a lot of moolah in the Comm Box! What are you waiting for? Get cracking and maybe one day, you may announce history to crores of cricket fans out there… Remember the name!
-Noel D'Souza, Senior Sports Journalist